Why can Creation change your organization? Because we are team-oriented consultants.
We practice Organizational Behavior Management (OBM) by ourselves.
This is why we are able to tell how difficult to change the organization and how important team-work is.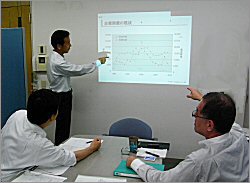 Creation's 2022 Vision and its promotion
We define what to achieve in the future as "Creation 2022 Vision."
In order to realize this, we break down the Vision into individual yearly objectives which each consultant should tackle.
The objectives shall be carried out and achieved.
Hence, we have regular monthly meeting where all of us check the progresses.
When we face problems to overcome, we discuss there and solve them accordingly.
For our clients, we must never be "lone wolf"
Even in incorporated consulting firm, individual consultants often work independently.
However, when we support company's management restructuring, the range of support is usually wide thus one consultant can never handle everything in terms of his/her competence and time.
Creation, as team-oriented consulting firm, gathers individual know-how and experience together to support a client.
Company information
Our mission is to help you achieve its management goal such as establishing new business, drastic cost-cutting or quality improvement, in order to survive tough economic environment.
Our approach is based on organizational behavior, focusing mainly on employees' motivation and growth.
With more than 20 years of experience, Creation systematically improves your most crutial business performance drivers.
Company Name

Creation Co., Ltd.

Representative Director

Masayoshi Utsumi

Number of Staff

7 (including partners)

Small and medium enterprise management consultants.
Management system consultants.
Social insurance labor consultants.

Address

Ayumi 11-th Bldg 305
Tamon-dori 4-4-13, Chuo-ku, Kobe City, Hyogo Prefecture, JAPAN
TEL (+81)78-371-8801 FAX (+81)78-371-8802


Foundation Date

April 8, 1994

WEB URL

E-mail
Top of this page